Learning about loans isn't exciting. Deciding when to get one may not be fun, either. We want to make information available to help ease the situation. Today we'll focus on installment loans.
What is an Installment Loan?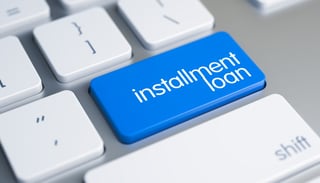 An installment loan is a personal loan you pay back over time, with a specified term, and fixed payments. The balances on installment accounts actually decrease every time a principle payment is made. Most mortgages, student loans, and personal loans from a finance company are installment loans.
Unlike complicated and expensive-to-process mortgages, personal installment loans are relatively easy to access. Finance companies will base your installment loan on the amount you're able to pay back each month. And unlike student loans, the monthly payment amount will never change. Most finance companies will usually report your on-time and in-full payments to at least one of the major credit bureaus. Over time, that should actually improve your credit score!
When Should I Get An Installment Loan?
Sure, you can use the money from a personal loan to cover expensive car repairs or a medical bill, but that's not all. Family vacations, back to school shopping, and home improvements are all great reasons to take out an installment loan.
If you have questions about installment loans, you should talk to a qualified lender - they'll be happy to help you make the right decision.
Want more resources regarding this topic? We've created a page called Personal Loan Basics to provide you with more information.