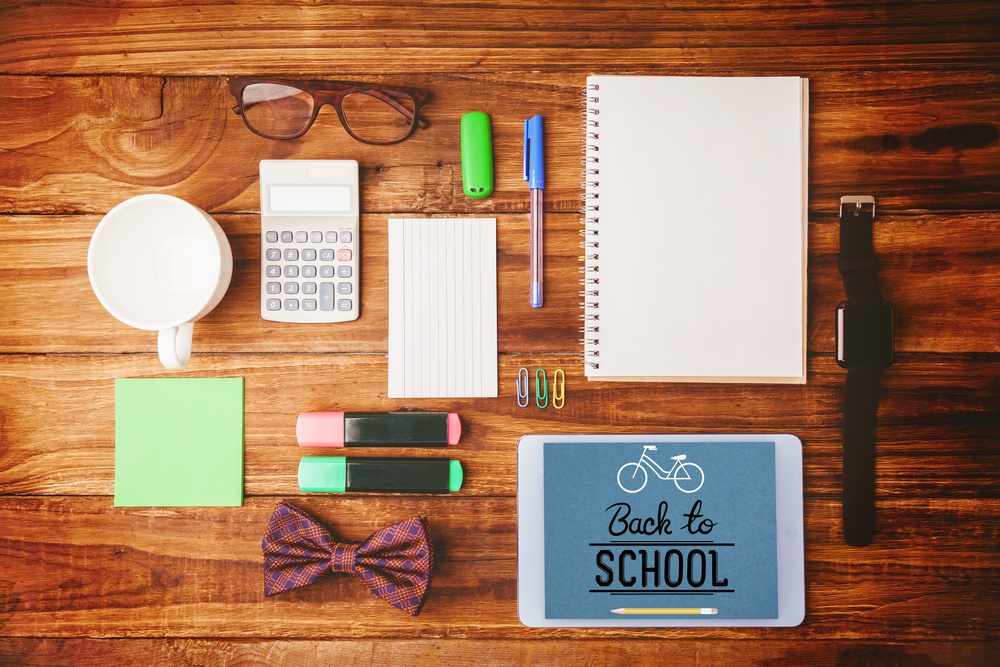 For parents and kids, back-to-school time can be a lot of fun. It can also be expensive. The school supply list, shoes, new clothes, and school fees add up fast. This time of year may be hard on the family budget. A lot of parents end up feeling like it will take them months to recover financially from the extra expense of outfitting their kids for the first day of school.
5 Tips for Saving Money On Back-to-School Shopping
1. Buy only a few new clothing items for each child
Choose appropriate things for the weather in August and September. There's no need to purchase fall and winter clothing while the air conditioning is on. Besides, if you shop too far ahead, your kids may outgrow their new clothes before they even get to wear them. Plan to go shopping again after Thanksgiving to take advantage of the holiday season when fall and winter clothes go on sale.
2. Shop with a list
Make one master list for each kid. Include everything that costs money, including school fees and items needed for extracurricular activities. Share the lists with your kids so they understand that you have a plan and a budget. Don't forget to include the price of school lunches and transportation costs.
If you need help planning what to add to your back-to-school shopping list, take a look at the sample lists below:
Back-to-school items to buy for your K-12 Student:
Here are a few of the common back-to-school items you may want to buy before your children head back to school this year:
Backpacks
Lunchboxes
Sports equipment (i.e. soccer shoes, running clothes, ice skates, etc.)
School uniforms
Musical instruments
Binders
Notebooks
Paper
Pencils
Pens
Calculators
Desktop or laptop computer
Printer
Back-to-school items to buy for your college student :
If you have a child that's headed to college soon, you may need to buy these essentials before they move into their dorm:
Bedding (sheets, blankets, pillows, etc.)
Computer software
Bath towels
Clothing (including pajamas and athletic clothing)
Shoes (sneakers for walking on campus to class)
School supplies (pens, pencils, paper, notebooks, binders, etc.)
Calendar or Planner
Alarm clock (a smartphone may serve this purpose)
Paper towels
Toilet paper
Tissues
Storage bins
Shower shoes (like flip flops) to use in a communal shower
Basket or shower caddy to carry bathroom supplies
A small refrigerator (if the dorm doesn't have one)
Microwave
Glasses
Water bottles, disposable and reusable
Silverware or plastic ware
3. Let your kids help pay
If your child wants name-brand and brand-new clothing, but your budget can't accommodate their wishes, let them work off some of the cost. Kids who are old enough to have a job mowing lawn or walking dogs should save their money to help buy the extra things they really want.
Get your kids involved by helping them set a budget for back-to-school shopping before you go to stores, then figure out how much you can spend for various items on the list. If you have older children, this process can be a valuable personal-finance learning opportunity.
4. Comparison shop
Use apps like PriceGrabber and ShopSavvy to make sure you get the best deal. Watch ads and fliers for back-to-school specials on supplies like notebooks, pens, and markers.
A few minutes of searching online can also help you make sure you're getting the best possible deal. Consumer Reports lists prices at various retailers for products we test, so you can get a quick snapshot of who's charging what.
If you're shopping in a store rather than online, many retailers (like Best Buy, Target, and Walmart) will price-match another store's price, so you may be able to get a better price without even leaving a store.
5. Take advantage of tax holidays
Every year, during the first weekend of August in South Carolina, shoppers can save some money on back-to-school purchases during the Sales Tax Holiday.
You'll be able to save on many purchases by taking advantage of South Carolina's annual 72-hour Sales Tax Holiday. The SC Tax-Free Weekend usually takes place the first weekend in August and gives shoppers a chance to save money on computers, clothes, school supplies, and more!
If you want to learn more, check out the South Carolina Department of Revenue or read our blog post that gets updated with the latest year's tax-free weekend dates.
Budgeting for Back-to-School Season
Seasonal expenses are easier to handle when you plan for them well in advance. If you haven't already, save money from each paycheck for back-to-school time. Even if you can only save $5 each week, after a year of saving, you'll start your back-to-school shopping trip with more money in your pocket.
If you haven't taken the time to budget for this upcoming school year, you may consider a personal loan to help spread the costs out. Sunset Finance offers installment loans with fixed payments for a set term. This allows you to fit the loan payment into your monthly budget. Also, making on-time, in-full payments to a personal loan can help build your credit. Check out Sunset Finance FAQs or give us a call if you have questions.
If you would like more resources on personal finances and budgeting, check out these resources:
Subscribe to Email Updates