If you feel like you can't break the paycheck-to-paycheck cycle, you aren't alone. GOBankingRates issued a report during the fall of 2017 that says nearly 60% of American workers have less than $1,000 in a savings account. Only one in four has more than $10,000 in savings.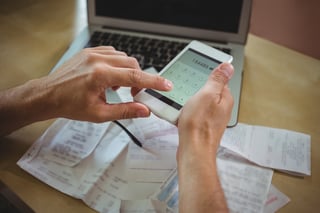 Here are some things you could do to change the direction of your financial life for the better:
Develop a savings plan
When discussing savings plans, it's important to distinguish between short-term and long-term savings. Short-term savings could be for back to school or holiday shopping, while long-term savings could be a college fund or retirement savings. In any event, breaking the cycle of living paycheck-to paycheck will require both types of savings.
To have both you'll need to have a working budget which designates an amount to contribute to each on a regular basis. Identify your needs for the future. If you have kids, you may need to set up a college fund, or if you live far away from your family, you may need a travel fund for when you want to visit. Maybe you have a large purchase in your future, like a house or a car. Creating goals for your savings account is a great motivator.
Make more or spend less
There are two ways to create more cash in your life; make more money or spend less money. Most people find that a combination of the two works well to break the paycheck-to-paycheck cycle.
Identify areas of your spending that you could eliminate. Maybe you pay for a Netflix subscription but never access the content. If you have a monthly subscription to a news source that you don't regularly use or a long list of apps you pay for but don't open, eliminating those expenses will free up money immediately.
Use a money-tracking method that works for you
Changing spending and savings habits can take time. Be patient with yourself and use a budgeting tool, expense tracker, and financial organization tool that's easy to use and offers the information you want.
Some people find that writing their budget out on paper is effective. Others prefer tracking their spending through a free financial management app.
Start paying bills as they arrive
This move gets you ahead of the game a bit and prevents you from losing your hard-earned income to late fees and penalties. Paying your credit card bill late costs about $35. Even utility companies charge late fees. If you lose your service due to non-payment, getting it turned back on could cost you hundreds of dollars.
According to Chime Banking, the average American pays $329 per year in bank fees. Monthly maintenance fees, ATM fees, and check fees may be small, but they add up quickly. If your bank charges any fees, check out some of the new online banks that offer no-fee accounts and widespread ATM access.
Personal finances shouldn't be stressful. If you need to and are willing, making a few small financial moves could help alleviate some of the pressure of waiting for your next payday, and you might be on your way to a happier and more secure future.
Learning to manage a budget becomes a fairly simple task with a bit of practice. Take a look at The Basics of Budgeting to get started.
Subscribe to Email Updates