Having fun on a budget in South Carolina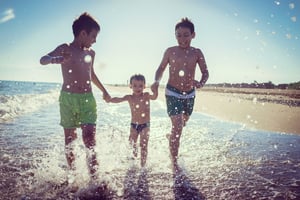 South Carolina is a wonderful place to explore. Families on a budget will find plenty of fun and exciting things to do in the Palmetto State.
Take a road trip
Road trips are a lot of fun for families, and there are quite a few options in South Carolina. Take a drive from Walhalla to Whitewater Falls and see the beautiful mountains, rivers, waterfalls, and forests. Pack a picnic, stop frequently for photos and to stretch your legs, and spend the day meandering through SC's most beautiful scenery.
Drive to Cape Romain National Wildlife Refuge, take the ferry, and spend the day exploring the 66,000-acre avian sanctuary. This area is famous for their Loggerhead Turtle population and has two lighthouses as well as Boneyard Beach.
Soak up some southern history
Visit Camden in Kershaw County. You'll find Goodale State Park, centered around a mill pond, with miles of trails. Rent a kayak or canoe, relax by the old swimming hole or fish from the shoreline.
Camden is South Carolina's oldest inland town, so you'll get plenty of military history, Native American culture, and a close look at how people lived hundreds of years ago.
Spend the day at a beach
Bonneau Beach at Lake Moultrie is an excellent place to relax in the South Carolina summer sun. Bring a picnic and stay for the glorious sunset. The Lake Moultrie Loop is full of fun stuff to do, as well. Visit Diversion Canal, General Francis Burial Site, and Pinopolis.
If you want to camp or rent a cabin, check out beautiful Hunting State Park. It's just 30 minutes from Hilton Head and has 5,000 acres of fun. Fish off the pier, see South Carolina's only accessible lighthouse and walk the trails. Four miles of sandy beaches should keep you busy for days.
Tour a museum
For the budget-conscious vacationer, Columbia offers five museums to tour at no charge. Start at the SC Law Enforcement Officers Hall of Fame with its 1950s State Highway Patrol car. Then stop by the City of Columbia Fire Department Museum to see two full-sized historic firefighting vehicles.
See the giant collection of shells, fossils, gems, and minerals at the McKissick Museum, and check out the South Carolina Museum of Education to see programs and exhibitions. Or take a trip to The South Carolina Military Museum and Fort Jackson Museums to see the state's military history unfold.
You don't have to blow your budget in search of fun and adventure this summer in South Carolina. This beautiful state has more than enough to keep your family content while providing plenty of quality time together. If you need some extra funds for vacation or help getting ready for Back to School, consider a personal installment loan. This can help you spread out the cost over several months, with equal monthly installments.