Spring to summer is a fun transition for most people. The warmer weather and bright sun make outdoor activities more appealing. If you look forward to all of the fun and excitement of summer, you probably also have some mixed feelings about how expensive this high activity season gets.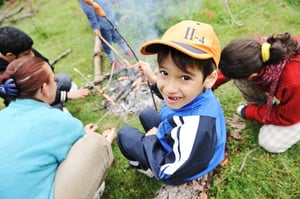 Don't worry, you can have loads of fun and stay true to your financial goals and summer budget.
Focus on one big event, or plan several over time; either way, if you plan ahead, you'll have a much better chance of setting yourself up for a good time that doesn't wreck your budget.
Staying close to home is usually less expensive, and you don't have to sacrifice fun. Check out local summer concerts and outdoor events. Buy tickets early and mark the dates on your calendar. Consider the free concert events in local parks, as well. These are especially fun if you have kids. Bring a blanket and a picnic to really make the event memorable.
If you know it's going to be a long day away from home, think about packing snacks or a meal to save yourself from budget-busting festival food. Buying funnel cakes or mini doughnuts for fun is great, but you don't want to have to rely on food carts for actual nutrition. Don't forget to bring bottled water, too. You'll pay significantly more for the same thing at an outdoor concert or festival, so why not get it at the grocery store.
Local sports are another great option for family-friendly entertainment. Weeknight games and minor league teams usually offer less expensive tickets. Tailgate in the parking lot to save money on ballpark food.
County fairs or small amusement parks can be just as much fun for kids as larger theme parks. Some offer family discounts or cheaper tickets if you buy in advance. Even tiny towns usually have their own themed weekend full of music, celebration, food, and fun. Be sure to participate in the events that happen in your hometown.
As summer winds down, you may be running low on funds, but there's still time to throw a backyard bash. Ask friends and relatives to bring their own drinks and a side dish. Get the kids involved and make sure they invite their friends, as well. Even a simple get-together can help you make this summer the best one yet.
Don't forget to save for back to school time. You have a few weeks before it's time to think about new shoes and school supplies, so set aside some money out of each paycheck so you can enjoy the transition from summer to fall as much as you enjoyed your summer fun.
Learning to manage a budget becomes a fairly simple task with a bit of practice. Take a look at The Basics of Budgeting to get started.
Subscribe to Email Updates