Although experts have sounded warning bells for years, most of us were caught totally off guard at how quickly and radically the COVID-19 pandemic affected every aspect of our lives.
Even so, this is no time to panic. Rather, it's a good idea to start thinking about ways you can be financially proactive during such uncertain times.
Take Advantage of Technology to Maintain Proper Social Distancing Guidelines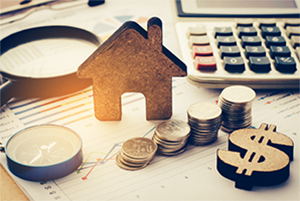 With today's technology, there's no need to visit your bank in person. Take advantage of a wide range of technologies that allow you to do your banking without ever having to leave home:
Check bank balances and transfer money where needed.

See monthly bank statements and reconcile them to cash.

Pay bills automatically.

Use a mobile app to deposit checks remotely. (There are apps that allow you to take a photo of the check and submit it for deposit).

Set up your account for payroll direct deposit.
Spend Less, Save More
Some experts have forecasted a significant global financial recession as a result of this pandemic, wherein the economy slows, unemployment rates increase, and credit tightens. But with a little proactive planning, there are things you can do to prepare for such a recession.
Avoid Major and Unnecessary Expenses
Avoid major expenses and spend less where you can. It may be an obvious piece of advice, but still bears repeating. Now is the time to understand where every penny of income is being spent.
Research online shopping apps like Rakuten and Ibotta that allow you to get cash back when you purchase through their website. Some even offer gift certificates just for signing up for their program. Take advantage of digital coupons as well. These savings, while they can seem small individually, add up over time.
And don't over-buy in an attempt to stock up on items without asking. Allow reason to dictate what to buy and avoid the temptation to put huge grocery expenses on credit cards. You may end up with a big bill for bags of rice, mounds of toilet paper, and cases of alcohol wipes that will take you months to use up once the quarantine is over.
Emergency Funds
Statistics show that just more than 40% of Americans can cover the costs of a financial emergency. So, if you haven't already, start an emergency fund. Even if you can only afford $20 a month, every little bit helps, and it does add up.
Ideally, you want a 6-month emergency cushion stashed away. One way to ensure you contribute consistently to your fund is to allocate a certain percentage of your paycheck to deposit automatically into your emergency account. Once you've built up a cushion, your emergency fund will help cover any unexpected medical costs or things like a blown tire or household repairs that can't wait.
Personal Installment Loans
And if these things should hit before you've fully subsidized your emergency fund, do your research because some financial service providers also offer small loans to cover things like unexpected bills, vehicle, and home repairs. A personal Installment loan may help by offering you the money to pay an unexpected expense, or it may keep you from using your emergency fund unnecessarily. These installment loans allow you to have a fixed payment over a set term and can ease the financial strain of paying all at once.
Don't hesitate to consult with your banker, personal loan officer, or accountant during these uncertain times.
Expect the Unexpected
In such uncertain times, it's a good idea to heed the old adage, "expect the unexpected." But if a financial crisis strikes and you don't have enough money set aside in your emergency fund, or you don't want to empty the savings you have built-up, a personal installment loan can help you weather economic challenges and spread the cost over time.
Sunset Management is a family owned business with over 50 years of combined experience in the consumer finance industry. We deal with our customers on a personal level you don't get at larger financial institutions. Why not connect with us today to talk about how we can help you financially prepare during the COVID-19 global pandemic?