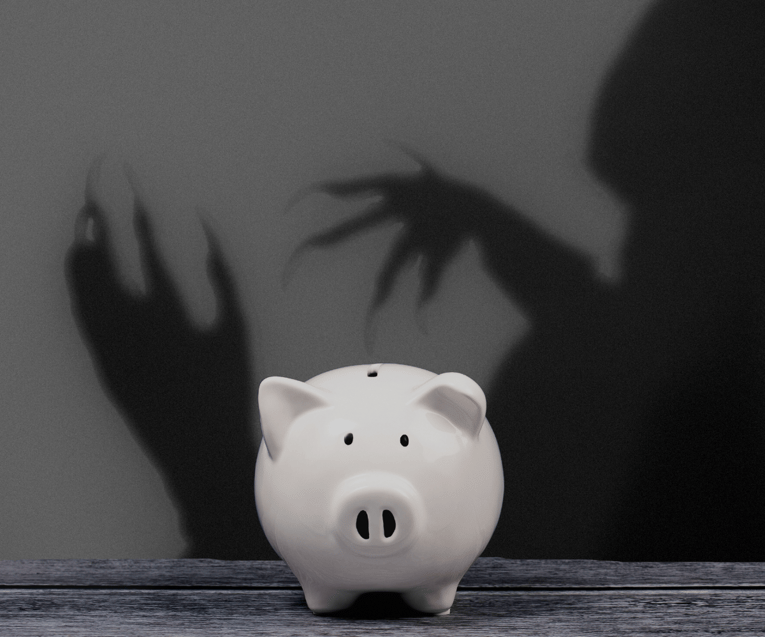 As the leaves fall and the nights grow longer, Halloween's approach reminds us of our love for all things spooky and eerie. While ghosts and goblins may send shivers down your spine, there's another aspect of life that can be equally terrifying – your finances. Just like facing monsters in the dark, confronting financial fears is essential for a secure future.
In this Halloween-themed guide, we'll explore some common financial fears and provide tips to conquer them. So, grab your flashlight, and let's delve into the world of financial frights, where we'll shed light on how to banish them.
Debt Hauntings: A Nightmare Come to Life
One of the most haunting financial fears is debt – the specter that lingers long after the bills are due. Uncontrolled spending or unexpected medical bills can turn your finances into a real nightmare.
Here are some tips on how to overcome your debt nightmares:
Create a Debt Payoff Plan:

Start by listing all your debts, including their total balance. Develop a structured repayment plan by allocating extra funds toward high-balance debts while making required minimum payments on others. Sunset Finance's personal installment loans can help consolidate debts into a single, manageable monthly payment.



Stick to a Budget:

Establish a realistic budget that accounts for all your expenses, including debt payments. Sticking to this budget will help you avoid accumulating more debt and gradually reduce your existing debts. Learn about the basics of budgeting.

Educate Yourself: Not all debt is scary. Utilize free education resources to learn more about debt and what might be considered good debt and bad debt. You can also discover different philosophies for paying down debt and start utilizing one that makes the most sense for you and your budget.
Taming Budgeting Goblins: A Spooky Task
Budgeting can be like dealing with mischievous goblins that sneakily devour your savings. It's common to fear creating a budget because it feels restrictive. However, a well-crafted budget can be your greatest ally.
Sunset Finance provides free personal finance resources, including budgeting tools and guides, to help you conquer this fear. By understanding where your money goes, you can control your finances instead of letting them control you. With a budget as your trusty talisman, you'll be ready to face any financial challenge that lurks in the shadows.
Here are some tips on how to tame those budgeting goblins:
Track Your Spending:

Keep a record of all your expenses for a month to identify spending patterns. Many budgeting apps and tools can help automate this process You may even want to consider

different budgeting techniques

and use one that fits into your lifestyle.


Set Clear Financial Goals: Define your financial objectives, such as saving for an emergency fund, paying off debt, or planning for retirement. These goals will give your budget a sense of purpose and motivation.


Trim Unnecessary Expenses: Review your spending and identify areas where you can cut back. It could be dining out less, canceling unused subscriptions, or finding more cost-effective alternatives for your regular expenses.
Phantoms of Credit: Shining a Light on Credit Health
A terrifying apparition for many is the credit score phantom. A low credit score can haunt your financial future, making it difficult to secure loans, mortgages, or even rental agreements. But fret not; Sunset Finance provides educational resources on improving and maintaining healthy credit. With our guidance, you can exorcise these credit score phantoms and pave the way for financial success.
​​Check Your Credit Report:

Obtain a free annual credit report from each of the three major credit bureaus (Equifax, Experian, TransUnion). Review it for errors and discrepancies that may be affecting your score. You can use tools like Experian Boost To help you learn about what is impacting your credit and what actions you can take to "boost" your score. Read our article about how Experian Boost works and how you can benefit from it.


Pay Bills On Time: Consistently paying bills on or before their due dates is one of the most effective ways to improve your credit score. Set up reminders or automatic payments to avoid missed payments.


Reduce Credit Card Balances: High credit card balances relative to your credit limit can negatively impact your score. Aim to keep your credit utilization below 30% by paying down credit card debt starting with your larger balances.
Confronting the Witch of Unplanned Expenses
Unexpected financial emergencies are like wicked witches that appear when you least expect them. These unplanned expenses, such as medical bills or car repairs, can cast a dark spell on your budget. But Sunset Finance offers personal installment loans that act as a powerful potion to ward off these witches. With manageable repayment terms, you can overcome the most ominous financial surprises.
Build an Emergency Fund: Start by setting aside a portion of your income in an emergency fund. Aim for at least three to six months' worth of living expenses to cushion unexpected financial blows.


Prioritize Insurance: Ensure you have adequate insurance coverage, including health, auto, and home insurance. This can protect you from significant financial setbacks in case of accidents or unexpected events.



Review and Adjust Your Budget:

Periodically reassess your budget to accommodate savings for unexpected expenses. Allocate a portion of your monthly income to an "emergency fund" category to prepare for unforeseen costs. As a

practical approach to budgeting

, the envelope method is an effective budgeting technique that involves allocating specific amounts of cash into envelopes designated for different spending categories.
Vanquishing Your Financial Fears
This Halloween season, don't let your finances remain shrouded in fear. Just as facing your fears in a haunted house can be empowering, confronting your financial fears can lead to a brighter future. Sunset Finance is here to guide you through the eerie labyrinth of finances by offering personal installment loans that fit within your budget and free financial resources to dispel financial ghosts.
So, embrace the spirit of Halloween and take control of your financial destiny. Let's banish those financial fears once and for all, ensuring your financial future is no longer a frightening tale but a promising adventure. Happy Halloween!
Sunset Finance's budget resources and installment loans are valuable tools that can help you stay on track with your spending. Here are some free resources:
Subscribe to Email Updates