If you don't have a lot of access to credit or do not have enough credit card or loan accounts to build a good payment history, your thin credit file could keep you from accessing other forms of credit.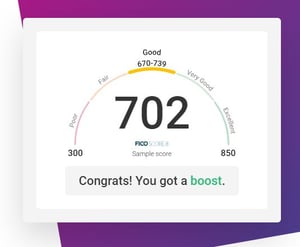 Experian recently rolled out their beta version of Experian Boost. This program, designed especially for those trying to rebuild their credit or "boost" their score, analyzes your payment history for regular bills like utilities, cell phone, and rent. Typically, paying these bills on time isn't reported to your credit, as utility companies and landlords don't traditionally report payment activities to credit bureaus.
To participate, create an account at Experian.com. They'll ask for your full legal name, address, phone number, email address, and social security number. You'll get instant access to your Experian credit score and get to take a look at some of the information that's currently in your credit file.
Signing up for an Experian account is free, and it won't affect your credit score. When you sign in for the first time, you'll see a message asking you if you want to upgrade to the CreditWorks Premium program. You don't have to enter a payment method or agree to pay for any of the add-on services that Experian offers to get access to Experian Boost. Just click, "No, Keep My Current Membership" to move past that screen.
You can sign up for Experian Boost by clicking on the appropriate tab at the top of the page. Search for your bank. When you find it, enter your bank login information to give Experian access to your transaction records. The program will search for regular bills you pay to see if they can help you establish a payment history that will help you seem less risky to potential lenders.
If your bank isn't listed, let Experian know by clicking the "I can't find my bank" tab. Put in the name of your bank to alert them that you'd like to access the program. You'll get a message saying they will look into adding your bank and they'll let you know when they get the job done.
If your bank is listed and you agree to try the program, you could see a bit of a boost to your Experian FICO 8 credit score immediately. If not, take the opportunity to look at your credit file. Run the Experian simulator, or check out our FREE download to see what 5 factors affect your credit the most.
For more great information on all things credit-related, head to our 'Basics of Credit' reference page.