These time-tested and well-reviews apps make saving money easy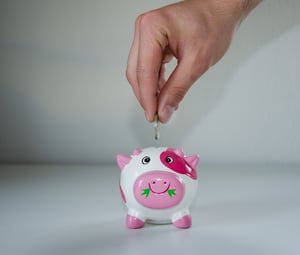 No one loves sticking to a budget, but it's much easier to stay on track with your financial goals if you have an emergency fund and can save for seasonal expenses. These savings apps can help you automate the process, removing some of the pain and frustration from the process of saving money.
Chime
If you don't feel great about your bank, it may be time to move to a 100% online no-fee option. Chime is a real bank, but its mobile-only format makes it easy for the company to offer low-cost access to bank accounts. You can access all of the online account functions via the Chime app.
There are no overdraft fees, monthly fees, or foreign transaction fees.
You can set up the Chime checking account to round up each purchase to the nearest dollar and deposit the difference in the Chime savings account automatically. You can also set the Chime account to automatically transfer a certain percentage of each paycheck to the Chime savings account.
Chime processes automatic deposits faster than most banks and credit unions, which means you could get your paycheck earlier if you choose to have it automatically deposited into a Chime checking account. Certain ATMs offer free cash withdrawals.
Digit
This simple app sets aside money automatically after calculating how much you can safely save without hurting your budget. Using information gathered from your bank activity about your income and spending habits, Digit automatically transfers small amounts of money from your checking account into a Digit savings account.
Most users see two or three transfers per week. The app costs $5 per month, but there's a 1% annual saving bonus, paid quarterly, that helps offset the price.
Digit refunds users up to two overdraft fees if they are triggered by a Digit withdrawal. If you want more control over how much money Digit transfers, you can set up a daily limit.
Qapital
With the Qapital app, you set rules to tell the app exactly how to automate savings. You can contribute any amount manually when it suits your budget, or set the app to round up to the nearest dollar for every purchase made from the connected checking account. Users can also set up automatic savings triggered when you spend money at certain places or create savings goals with friends and family.
Qapital comes with a free debit card. While there aren't fees for purchases or transfers, there are ATM fees imposed by ATM owners. There are three tiers of features on the Qapital app. They cost $3, $6, or $12 per month. Higher tiers offer more functionality and enhanced educational resources.
Other great savings apps
Automatic savings apps are plentiful. Here are two more free or low-priced options with a multitude of perks.
Empower Finance allows users to connect all their bank accounts, debt accounts, investments, and crypto-wallets in one place while using the app. You can categorize expenses, keep track of recurring bills, and set up the AutoSave function to pay down debt fast. The service is free or $4 per month for the premium app.
Tip Yourself is a straightforward savings app that lets you transfer money from your checking account into your own online tip jar. There's a lot of motivation to save, and the app is goal-oriented. This is a free app that works well with any checking account.
Subscribe to Email Updates