Beyond keeping gas in your car, driving has costs that many people forget to account for. Unexpected auto expenses can wreck your budget if you don't have an emergency fund in place.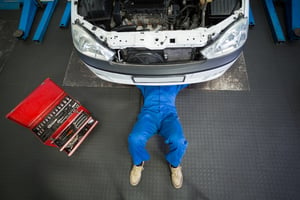 Here are some expenses associated with having a vehicle which are often overlooked:
Insurance Deductibles
Your insurance deductible is how much money you'll need to pay out of pocket before your insurance takes over should you need to file a claim. If your deductible is higher, then your monthly premiums are generally lower and vice versa. It is best to find a good balance between your monthly rates and your deductible, as you don't want a deductible which you are unable to afford should the need arise. Be sure you have enough money to cover your deductible if you need to make an insurance claim.
Maintenance Costs
General maintenance such as oil changes, battery and tire replacement, along with rotating and balancing of tires are all common costs when owning a vehicle. However, these costs can add up quickly especially if you find yourself replacing all four tires at once, or if you drive a vehicle that requires synthetic oil or other specialty services.
Some general maintenance can be handled on your own, but if you can't do it yourself, finding a trustworthy mechanic who will do the work for a fair price should save you money in the long run. No one wants to be over-charged or pay for unnecessary work, so ask family and friends for referrals if you need automotive work done.
Other Repairs
Advanced technology like Bluetooth connectivity, GPS devices, rear-view cameras, and tire pressure sensor systems are great additions to your vehicle. However, the potential cost of fixing features such as these should they become inoperative may not have occurred to you. While many of these features are not necessary for your vehicle to operate, like a battery or tires, they'll still need to be fixed at some point, and the repair bill can get steep.
Traffic violations
If you get caught speeding or running a red light, you could face a fine that amounts to hundreds of dollars. Depending on your driving record and insurance company's standards, you may also pay increased insurance premiums. If decreasing your chances of being involved in a car accident doesn't motivate you to slow down and drive more carefully, think about what the fines could do to your budget. Traffic violations can be expensive, and there is often a timeline for when your fine must be paid.
When faced with an unexpected driving-related expense such as repairs, or even a traffic ticket, understand your options before deciding how you'll pay the bill. High-interest credit cards may not be the best solution. An installment loan offers equal payments for a specified term that are easy to fit into your budget. For emergencies you can't cover with cash, it's a better choice than running up credit card bills. If you need to take out a short-term personal loan to cover costs, make sure you speak with a reputable lender and understand the terms up front.
Want more resources regarding this topic? We've created a page called Personal Loan Basics to provide you with more information.
Subscribe to Email Updates