A Tax Advance Loan uses the taxpayer's anticipated tax refund as security against a loan for the same or a lesser amount of money.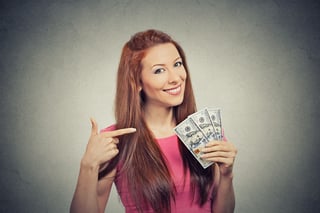 With a Tax Advance Loan, you can get a portion of your refund in as little as 24-48 hours after the IRS accepts your e-filed tax return. The IRS says their goal is to get everyone's tax refunds processed within 21 days of filing. In 2017, nine out of ten taxpayers filing electronically got their tax refunds within this three-week period.
Some people report getting their refund back in a little over one week, but most get it back within two weeks. If you want or need access to those funds earlier, a Tax Advance loan is a good option.
The IRS typically accepts a tax return within 24 to 48 hours of the e-file timestamp. When the actual refund comes through, your tax preparer may take their fees plus the loan amount out of it before sending the rest to you. This allows people to get professional help with their taxes without having to pay up front for the service.
People claiming the Earned Income Tax Credit (EITC) typically experience a delay in their refund. The IRS recently released a statement saying that the earliest a taxpayer can expect their refund if they claim the EITC when filing their 2017 taxes is February 27, 2018. This assumes that the filer chooses the e-file option, there aren't any issues with the tax return, and they are getting their refund via direct deposit.
Filing 2017 taxes with the Additional Child Tax Credit (ACTC) or the American Opportunity Credit (AOC) could also trigger delays in the refund.
Filing early may mean you'll get a refund sooner. Even those filing early who don't use the EITC, AOC, or ACTC will still wait weeks for their money.
Access to a Tax Advance Loan is just one of the many benefits of using a professional tax filing service.
Here are some other reasons people choose to get help filing their taxes:
There's a much smaller chance that your refund will be delayed when you let professionals handle filing your taxes
Some tax preparers offer a free quote for their services so you know up front what you'll pay
Certain tax preparers offer free help if the IRS audits you
If you bring new customers to your tax preparation service, you may receive a referral incentive or bonus
Some tax preparers have easy to use apps to help you stay organized, and allow you to do your taxes on-line.
You may get a cash incentive when you file your taxes, depending on the service you choose and their current promotions
Getting part of your tax refund early is a great incentive to use a tax professional. For people who file with the EITC, the additional delay is unnecessary if they have a tax service that offers Tax Advance Loans.