While a budget helps keep your spending in line and tells your money what to do, it should also work to give you a life you enjoy. Keeping up with bills and saving for seasonal expenses and emergencies creates a stable and productive financial future.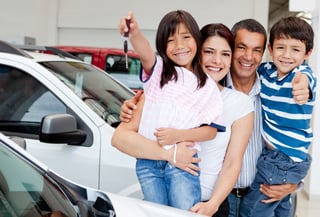 Occasionally, we all need to have some fun. Your budget can help you with that, too.
Guilt-free splurging, a bit of family fun, or a relaxing retreat all contribute to creating the life you want. While it's important to know your limits, it's also important to enjoy the result of your hard work.
Improve your money mood with a fun new line in your budget
Sticking to a budget is important. It takes determination, self-control, and the ability to plan for your future. Building in some guilt-free spending is a great way to give yourself some breathing room and renew your commitment to building your emergency fund and keeping your bills paid on time.
Even if you are living on a very tight budget, setting aside a small amount of money to spend as you wish is a great source of motivation. If you build some fun into your budget, you have a better chance of sticking to your long-term goals.
Couples should splurge too
When you are sharing a financial life, home, and future with someone, a healthy budget needs cooperation from both parties. While it's common for one person to feel that a budget is comforting and the other to feel that it's restrictive, you'll probably both agree that building some freedom into the budget is a good idea.
Decide what you'd like to splurge on and put it in next month's budget. If you can see that spending the money doesn't cause a financial disaster, you are more likely to enjoy a fun night out or a long-overdue weekend away.
Sometimes, spending saves you money
New tires for the car aren't exciting, but replacing the worn set you drive on now will help increase your fuel efficiency. It will also decrease the chances that you'll have an inconveniently-timed and expensive flat tire.
The same theory applies to car seats, bike helmets, and essential home repairs. It's smart to take care of a small leak before it turns into water damage, even if you must pay a plumber to do the job right.
A healthy budget has balance. Planning ahead for some fun, creating lasting memories with family and friends, and making room for maintenance, repairs, and safety helps you create a budget that keeps you financially responsible and happy.
Learning to manage a budget becomes a fairly simple task with a bit of practice. Take a look at The Basics of Budgeting to get started.