Understanding how credit works and what it can do for you are important parts of your financial success. Many people find themselves in a situation where they want to improve their credit standing. Below are some tips on where to start if you need to rebuild credit or repair credit.
Here are a few tips for rebuilding your credit:
1. Check your Credit Report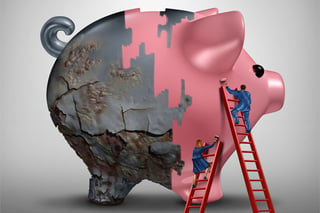 Any good game plan has a strategy, and knowing where you stand to begin with is the best place to start. Everyone is entitled to a free credit report from the credit bureaus yearly, and you can get yours at AnnualCreditReport.com. You are allowed one from Equifax, Experian, and TransUnion, and you don't have to get them all at once. Your credit report can show you your current and past creditors, your balances on these accounts, and the status of these accounts.
2. Develop a Plan
Look over all your bills and see where you stand. To rebuild your credit you need to bring all your accounts up to date, and pay off any old debts. These two areas have the biggest effect on your credit. Forming a monthly budget will help you maintain current accounts, get others up to date, and begin paying off old debts. If you're not sure where to start on old debts, try listing them from smallest to largest and working your way down the list.
3. Stick to the Plan
Moving forward, pay all of your bills on-time and in-full – all of them. If available, setting up automatic payments from your checking account is a great way to avoid missing payments.
4. Establish New Accounts
Once you've gotten into the habit of shrinking down debt and making on-time payments, you may consider adding a new account into the mix. A small loan, often called a credit-builder loan, that has smaller payments and is paid back over a shorter term, can show as a positive on your report when paid on-time and in-full, and add variety to your credit history. Repeat as necessary.
It may take time to see the results, but if you bring and maintain your existing accounts current, pay off old debts, and keep new lines of credit up to date, you have done some of the best things you can to rebuild your credit.
If you need help developing a plan, it's always a good idea to contact a qualified lender with questions, such as how to rebuild credit through starter loans in South Carolina or Georgia.
For more great information on all things credit-related, head to our 'Basics of Credit' reference page.
Subscribe to Email Updates