One of the most expensive times of year for many people is the winter holiday season. Gifts, hosting parties, large family gatherings, and travel expenses don't have to cause problems with your budget, though.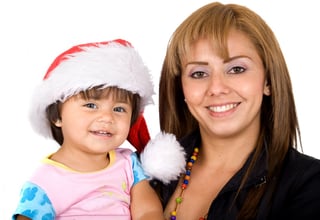 Many credit unions and some banks offer a special type of savings account designed to minimize the impact of holiday spending can have on a household's budget.
The idea gained traction after The Great Depression, but fell out of favor in the 80s because people considered it old fashioned. Now, Christmas Club accounts are making a comeback; they appeal to those who may have problems leaving money in a savings account throughout the year and people who like the idea of saving for seasonal expenses, but don't want to manage the process.
Many people use credit cards to get through the holiday season, but those who don't want to increase debt and pay high interest rates find that a savings strategy works better for them.
Creating a holiday budget
If you aren't sure how much to set aside each month, add up how much you spent last year in November and December on holiday related events, gifts, and travel. Divide that number by 12 if the Christmas Club account will withdraw a set amount once each month.
If you'd like to spend more money over the holidays, decide on a goal and divide it by 12. If that amount fits into your regular budget, you probably won't miss it.
How Christmas Club accounts work
Many credit unions will open a Christmas Club account with a small initial deposit. A specific amount is automatically withdrawn from your checking account each month and set aside in a savings account. This hands-off savings strategy works well for many people.
The predetermined monthly amount can usually be taken out the same day as a regular payroll deposit. While you will earn a small amount of interest on the money you save, the main advantage to this type of savings account is that you are planning and saving for a future expense. Usually you don't have access to the money until around November, so you can't spend it throughout the year. Each bank or credit union will have its own set of rules, of course.
Making the most of a Christmas Club account
Having a sizeable amount of money deposited into your account at the beginning of the holiday season may sound like a dream come true. It certainly takes the edge off a stressful time of year if you don't have to worry about where the money for gifts, extra food, and travel will come from.
It's a good idea to create a plan by spending the money "on paper" before you have it in hand. This will help avoid overspending and keep your day-to-day finances in order. Setting up a Christmas account is a great way to make the holiday season easier.
If you like the idea of a Christmas Club account but don't have time to set it up and fund it before the upcoming holiday season, you may want to consider an installment loan instead of using credit cards or tapping into long-term savings. Equal payments over a fixed term make a short-term loan for seasonal expenses easier to fit into a monthly budget.
Looking for more savings tips? Check out our helpful guide on The Basics of Saving Money.
Subscribe to Email Updates