Being financially literate means you know enough about money, including the importance of budgeting and how to effectively use credit, that you avoid many money mistakes.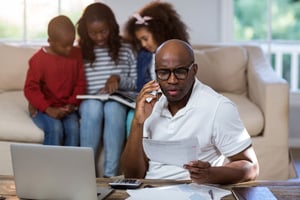 Financial literacy is a set of basic skills that allows you to save money, keep the bills paid on time, and work toward your money goals. If that sounds boring, consider that money goals can include regular vacations, new cars, moving from an apartment into a beautiful new home, and even retirement and the quality of life you want to enjoy when it arrives.
How to become financially literate
Only 17 states currently require high school students to take basic money-management courses. Even so, most high school students simply aren't concerned with learning how to effectively manage money.
This means that most people don't get the education they need early enough to start out making decisions about money that are in their best interests. Often, by the time an adult is in their mid-twenties, they've made a few expensive mistakes with taxes, credit, student loans, buying a car, or even buying a house.
The good news is that there are plenty of free, high-quality, reliable resources online to help you understand the basics of budgeting, understanding and using credit, and managing debt. You can even learn about retirement planning and investing.
Benefits of financial literacy
Even if you are in debt, living paycheck-to-paycheck, and don't have a savings account, increasing your financial literacy can help you make better decisions about how to spend your income.
It's crucial to have a budget that works for you. Many people have a negative view of budgets and find them restrictive and hard to live with. Creating one that fits well with your lifestyle is the most important first step toward financial literacy, however. With a budget, you'll be able to make the most of your income.
A budget is telling your money where to go instead of wondering where it went. (Dave Ramsey)
If you prefer to use paper, there are many free budget templates available online. It's easy to create a budget with a free app if you prefer to use your phone. Many budgeting sites have additional information available to help you increase your overall financial literacy as you work toward improving your budgeting skills.
If you've ever wished you knew more about how to handle money, use the free resources available to increase your financial literacy. You'll increase your confidence and learn how to make your money work for you. Keep an eye out for additional blogs on where to find resources for specific needs.