Christmas is weeks away, but for many people, their carefully planned budget is already a thing of the past. It's no secret that sticking close to a holiday budget can be difficult. The most important part of getting your budget back on track is realizing that you aren't alone.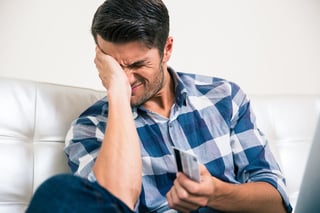 Let's face it, Americans feel strong pressure to spend more than they can afford during the holidays. Parents say they often spend more money than they should on their children during this time of year.
The good news is that it's not too late to get your spending back in line and take steps to salvage your plans to stay within your budget. If you are one of the many Americans who've already spent more than you planned, here are some things you can do to get things back on track.
Assess the situation
If you have a list of everything you planned to purchase and spend money on this holiday season, get it out. If not, create a list of gifts, charitable donations, celebrations, and anything else you wanted to do and buy this Christmas.
Go through the list line-by-line and cross off anything that you've already purchased or paid for. Now is a great time to feel good about the things you've accomplished so far this holiday season. Many people haven't started shopping, and it's hard to find last-minute great deals.
Try to avoid turning to high-interest credit cards for extra money. Go through the list of things you have left to purchase and pay for and think creatively about how to trim expenses from the list.
If you feel like you'll need a financial boost to get through this holiday season, consider a short-term personal loan with payments that stay the same every month. This type of personal loan is usually less expensive than using credit cards.
Start thinking about next year
Many people struggle to resist the temptation of carefully-crafted seasonal advertising. It's easy to get swept up in the celebratory spirit of the season. If you've mapped out how you'll spend the remainder of your holiday budget, try taking it slow when shopping. It helps to have a detailed list of who you want to buy for and what you'd like to get them.
Keeping next year's holiday spending under control can start right now. Keep a list or hang on to receipts for the money you are spending this year. If you don't have a non-monthly savings account to handle seasonal expenses, consider setting a small amount of money aside now to open an account. Even $5 is a step in the right direction.
Treat your holiday savings account like any other monthly expense. Automating the savings by having the amount deducted from each paycheck keeps you from having to re-make the decision to save every payday.
The holidays are full of surprises, and it can be hard to plan for every detail when it comes to budgeting. The most important thing is to enjoy this lovely season. Take it easy on yourself; learning to budget is a process.