Being prepared for next year's taxes means you'll potentially get your refund faster. It may seem too early to work on your 2020 taxes, but anything you do now to make the process go smoothly next year is well worth your time.
Adjust your withholdings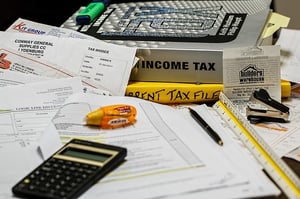 If you received a sizable tax refund, consider adjusting your withholdings so that you take home more of your pay during the year. Increasing your paychecks by decreasing your withholdings works best if you already have a budget that works. Be sure to give the extra money a purpose. Pay bills, increase your savings, or set aside the money for seasonal expenses to get the most out of your larger paychecks.
Some people count on their tax refund each year, and purposefully have more taxes taken out. They may count on the refund each year to pay bills. There's also a fear of owing taxes at the end of the year that inspires people to set their withholdings higher. Just remember, if you're getting a refund, then you received less on every paycheck last year.
Make decisions about your refund
If you expect to receive a refund this year, think carefully about how you'll spend it. This isn't "free money." It's money you earned and overpaid the federal and/or state government. Your refund is an important part of your income, so use it to your advantage.
If you don't already have a dedicated account for next year's holiday spending or back-to-school expenses, consider starting one with your refund. You could also get on track with your financial goals.
Organize tax paperwork
Create a dedicated place in your home for tax paperwork. If you itemize deductions, be sure to save receipts for business expenses, medical expenses, and charitable contributions.
You'll receive tax documentation throughout the year, and if you are self-employed, you may need to pay quarterly taxes. If you can easily access the paperwork, it'll make the chore of keeping up with your taxes easier.
Understand the newest tax laws
The Tax Cuts and Jobs Act, effective December 2017, eliminated some familiar tax breaks and created a few new opportunities to reduce your tax bill. Make sure you take advantage of the benefits:
No income limits on itemized deductions

A larger child tax credit of $2,000 per qualifying dependent

Automatic deduction of 20% of pass-through business income for business owners

Lower tax bills for those who paid tuition during the tax year

Elimination of Obamacare penalties
Ask for help
If you have concerns about any tax-related issues, ask a professional tax preparer for help. You don't have to wait until you are ready to file your taxes to seek the advice of a financial expert.
Ready to file your 2019 taxes? You can get a free no-obligation quote and up to $5,000 of your tax refund back within 24-48 hours of IRS acceptance, right here.